Rekordforsøg i Korsør: 1337 meter guirlande hænges op i byen
Rekordforsøg i Korsør: 1337 meter guirlande hænges op i byen
Lørdag eftermiddag startede opsætningen af 1337 meter guirlande i Korsør, som et led i et rekordforsøg for den længste guirlande.
Det er indehaveren af butikken KK Healing i Algade i Korsør, Karen Knudsen (Julemandens værksted) som er arrangøren bag rekordforsøget.
Ideen er at komme i Guinness Rekordbog med den længste guirlande i plastik, lavet af voksne. Det oplyser Karen Knudsen til 112news.dk
Der er dog allerede en rekord for længste guirlande i rekordbogen på hele 18 km. Men denne er ifølge arrangøren lavet af børn og udført i papir.
Derfor er ideen at komme i bogen med den længste guirlande lavet af voksne og udført i plastik til udendørs ophængning i byen.
Artiklen fortsætter efter billedet…
Det er borgere i Korsør som via et Facebook opslag i den lokale Korsør gruppe, som er blevet opfordret til at lave noget guirlande af plastik, og så indlevere det i butikken.
Det var der flere som valgte at bakke op om, heriblandt det beskyttede værksted Vasac, som indleverede godt 700 meter guirlande til projektet.
Lørdag middag blev den så samlet og opmålt i arkaden i Korsør, hvor den blev målt til hele 1337 meter, som er blevet dokumenteret og vil blive indset til Guinness.
Guirlanden skulle forbinde Korsør og Halsskov bydel
Kl. 14 begyndte opsætningen fra Sankt Povls Kirke på Kirkepladsen, hvor den skulle hænge ned gennem Algade til Nygade, og derfra til Casper Brandt Plads og videre over Halsskovbroen.
Derved strækker den sig nu fra centrum af Korsør og til Halsskov bydelen, på den anden side af Halsskovbroen, hvorved de to bydele er blevet forbundet med guirlande.
Arrangøren takker mandag alle som har bidraget og hjulpet med projektet, og glæder sig nu til dommen fra Guinness, når det hele er blevet indsendt til optagelse.
/112news/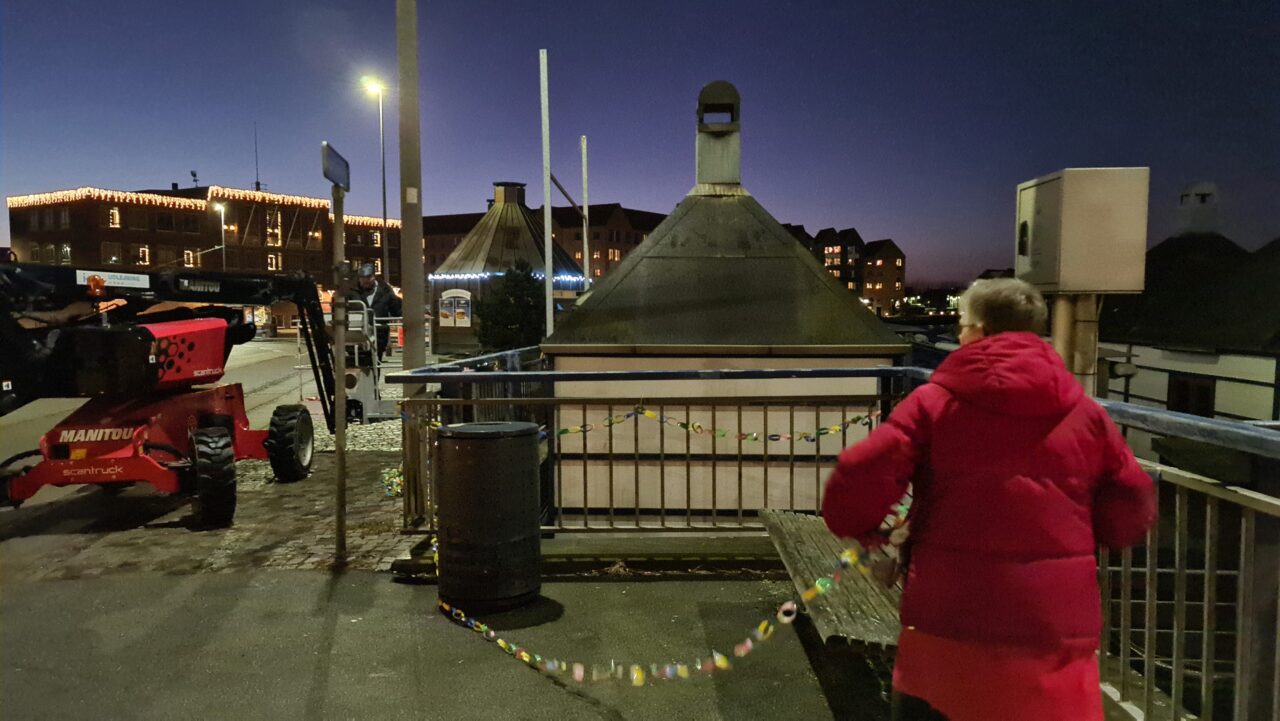 Facebook Notice for EU! You need to login to view and post FB Comments!
Denne artikel er set72gange.