To brande og en smadret bil torsdag morgen i Korsør
To brande og en smadret bil torsdag morgen i Korsør
Korsør: Politi og brandvæsen måtte tidligt torsdag morgen rykke ud til to brande i en bil og en trailer, ligesom en bil har fået smadret ruderne.
Alarmcentralen modtog torsdag morgen kl. 04.36 en melding om flammer fra en bil, som holdt parkeret ved Pierne på Strandvej i Korsør.
En stor sort røgsøjle stod op på morgen himlen fra stedet, og en bil var helt omspændt af flammer da brandvæsnet nåede frem.
Mens slukningsarbejdet var i gang, kunne der ses endnu en røgsøjle stige til vejrs fra et sted i nærheden.
Kl. 04.48 tikkede der da også endnu en melding ind om en brand, denne gang i Lille Færgestræde hvor noget affald på en trailer stod i brand, godt 100 meter fra den første brand.
Artiklen fortsætter efter billedet…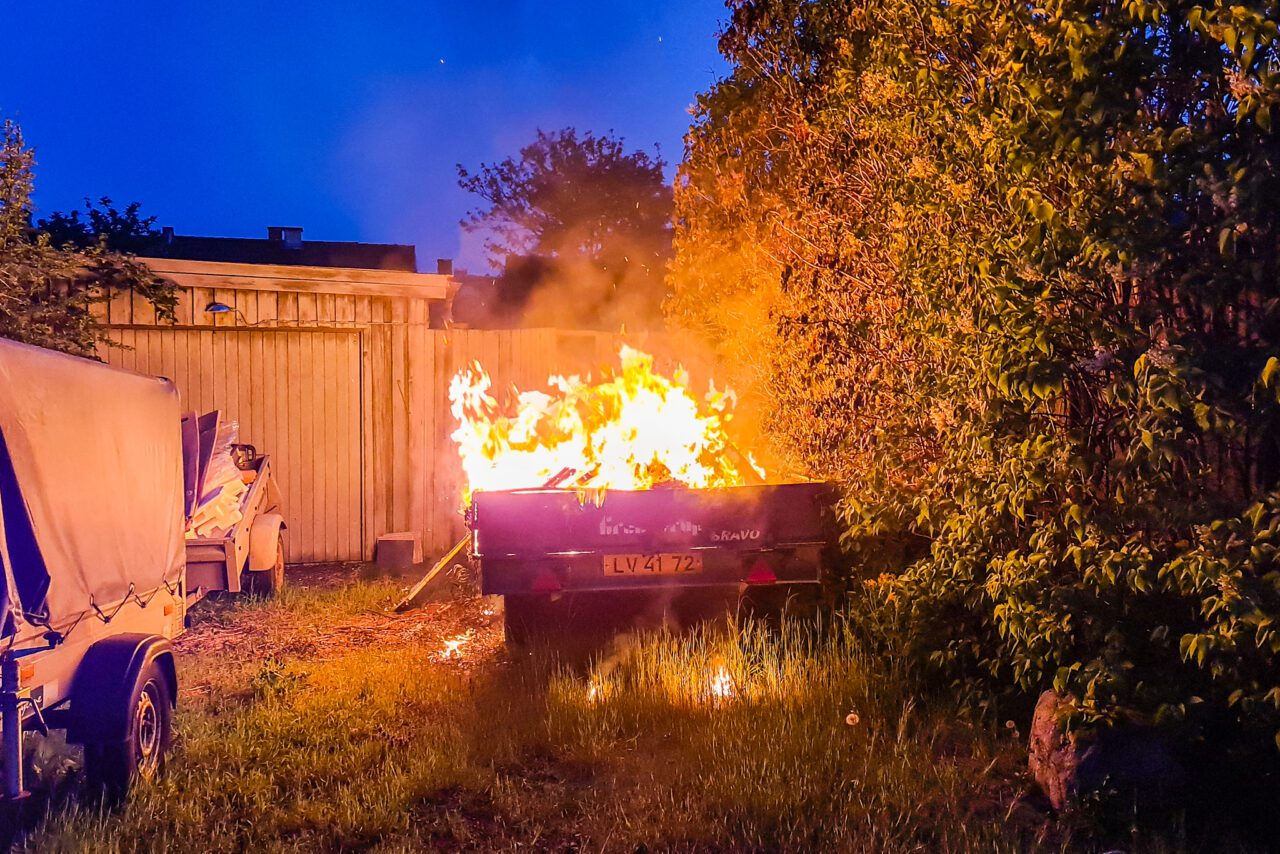 Da brandvæsnet havde slukket branden i bilen, fortsatte de derfor mod branden i traileren, som også hurtigt blev slukket.
Det vides ikke hvordan brandene er opstået, da det ikke er et område som normalt er plaget af uro og påsatte brande. Det oplyser Sydsjælland og Lolland-Falsters Politi til TV2-ØST.
Flere vidner havde dog angiveligt hørt larm og råben i området på tidspunktet for brandens opståen.
Politiet fandt da også en bil på en parkeringsplads på Revvej tæt på de to brandsteder, som havde fået smadret flere ruder.
Betjentene undersøgte derfor området, ligesom der blev indsamlet mulige DNA spor på den smadrede bil, i håb om gerningsmanden har afsat spor.
Artiklen fortsætter efter billedet…
Det skal nu undersøges om der er en sammenhæng mellem de to brande og den smadrede bil tidligt torsdag morgen.
Skulle du have set eller hørt noget mistænkeligt i området omkring Strandvej, Lille Færgestræde og Revvej torsdag morgen mellem 04.30 – 05.00. Så kontakt Sydsjælland og Lolland-Falsters Politi på tlf. 114.
/112news/
Denne artikel er set64gange.